If there is a God who loves us so much, then why would He put us through this?
May 12, 2015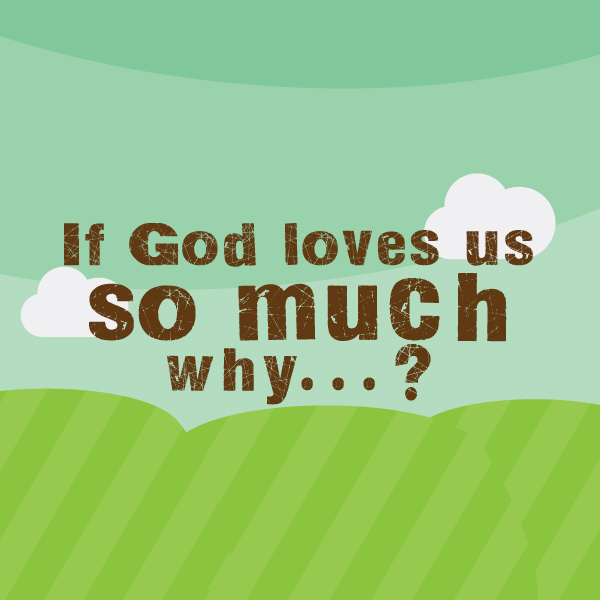 The reality is that we live in a broken world. Whether or not you believe in God, you can innately sense this. We see it everywhere. And in our messed up reality health issues can come into play plaguing our very sanity. As Christians, we believe that this wasn't the way God intended for things to be. Somewhere along the line God didn't change, we simply lost our way.
In Genesis we see how Adam and Eve made the mistake of partaking of a fruit they were instructed not to eat and in that moment we went from being obedience and walking with a living God to a disobedience resulting in expulsion from paradise. There was a shift that happened. Death has entered realm of men. While we won't have all the answers this side of heaven, we do hope to gain a new perspective. A paradigm shift.
Here are 4 health concerns that happen in a broken world:
Sickness happens

.
Illness has taken place since the fall of man and will continue on until the return of Jesus. Cancer is one of the biggest diseases we're currently battling. So what do you do when dealing with such a deadly disease? It comes down to understanding that God does not bring about these tragedies, but that He can work through them in a beautiful way.

Unexpected things

.
Accidents happen. And when they do we can't always cast blame on someone or something like we would care to. Accidents happen in a broken world. And some of us need to stop blaming ourselves or other people for these instances. Even though it hurts, the most unexpected things can still bring glory to God.

Death happens

.
It is imminent. Here's the thing about death: If we're in Jesus Christ and He is within us, we don't have to fear it. I know it is easier said, but that doesn't make it any less true. Pastor had a thought during his most recent sermon regarding how we pray for those who are sick and dying. We run to Jesus asking that He would heal them. But what if this is a selfish prayer? For those ill who believe in Jesus, why would we want to pray to keep them on this crumby ole' earth anyway? We want them to stay here so we don't have to be here without them. If we are in Christ, we shouldn't be concerned about death.

Miracles still happen

.
In a broken world, miracles still happen. We've known several people here at OFC that had debilitating cancer and are still walking this earth cancer-free. Strokes, death-defying accidents that are miracles and we need to acknowledge them for what they are. It is also okay to ask for them, but here is the hard thing; it's not our decision as to when God intervenes via a miracle or when He doesn't. This doesn't bring you any more peace or comfort when you question God.
What brings us more peace is trusting that Jesus is who He claims to be. Proverbs 3:5-8 says:
Trust in the Lord with all your heart
and lean not on your own understanding;
in all your ways submit to him,
and he will make your paths straight.
Do not be wise in your own eyes;
fear the Lord and shun evil.
This will bring health to your body
and nourishment to your bones.
For more on health concerns and worry, click here.
« Back to Blog
Copyright © 2019 Old Fort Church, All rights reserved.