Don't miss your last chance to get a shirt to help raise money and awareness!
August 30, 2015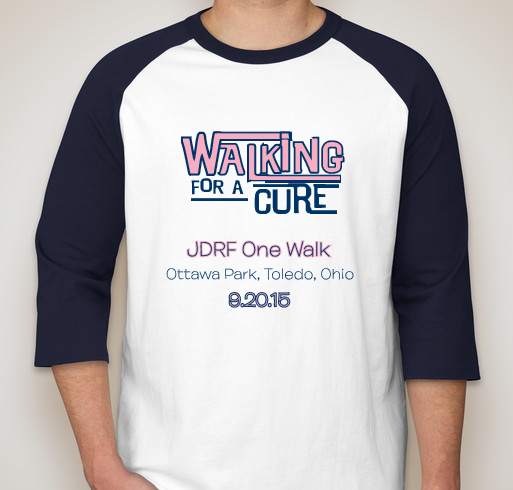 "Andrea was diagnosed with Type 1 Diabetes on January 23, 2015 just a little over a month of turning 13. Being faced with this diagnosis and the daily struggles of a hormonal teenager, our life has been put to the test of our faith, strength, love and support. I believe Andrea will help educate others or will be a part of finding a cure! This disease has effected the lives of so many and a cure needs to be found.
Please help us raise money and awareness for JDRF by one of the following:
1) Join us by walking and making a donation to our team as we walk on September 20th to raise funds for JDRF (visit the following link to join our team: http://www2.jdrf.org/site/TR?fr_id=5377&pg=team&team_id=189456&ref_px=10369750). Walkers who register and raise over $100 will also receive an "official" JDRF 2015 One Walk t-shirt.
2) Purchase a #TeamAndrea shirt for $25 where the proceeds to benefit JDRF. Shirt orders, with name, size and payment are due no later than August 31st to allow printing and shipping. (visit the following link to order on your own: https://www.booster.com/teamandrea2015). I am trying to get the deadline extended a few more days, but in case I can't I'm making all efforts to get orders in by then. Our goal is to sell 75 shirts so we will raise approximately $600 to benefit JDRF as a team.
Thank you one and all for all your love and support!"
Craig, Kristy, Andrea, Kaitlyn & Corinne
« Back to Blog
Old Fort Church Livestream Once again, we're sorry that we can't meet in person on Sunday, but we're excited to figure out new ways to continue to be the Church. One of those ways is... more
ReNEW Worship Conference Saturday May 16th, Dwayne Moore - author of Pure Praise and founder of Next Level Worship International - will be in Old Fort, OH for a ReNEW Worship Conference at Old Fort Church... more
Attaboy Concert Don't forget to come out to Old Fort Church around 9:00pm this Friday night (after the basketball game) for an awesome night of music! And then come back again on Sunday morning at 8:30am and 10:00am as Attaboy shares in worship and message. more
Copyright © 2020 Old Fort Church, All rights reserved.