FREE 8x10 family photo?
July 21, 2017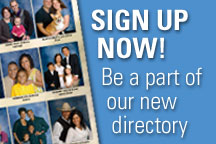 Yes, you read that right. This is your opportunity to get a free 8x10 family photo. If you missed getting your photo taken for the directory the first time around, come on out to be included in the directory. All families who have not already been photographed will get a free 8x10 photo and the option to buy more if you would like. And if you would like to buy, you're welcome to take advantage of your time slot to take as many poses as you would like as a family or individual shots.
Those that are part of Old Fort Church will then be added to a brand new church photo directory that you will also receive for free. So make sure we don't miss anyone. We want to be sure this book is full of all your shining faces.
Pictures will be taken at Old Fort Church on August 8th from 2:00pm - 8:00pm.
Time slots are limited, so be sure to sign up right away. You can sign up online by clicking here. Or you can stop by the Spotlight table on July 30th and Aug. 6th to sign up!
« Back to Blog
Attaboy Concert Don't forget to come out to Old Fort Church around 9:00pm this Friday night (after the basketball game) for an awesome night of music! And then come back again on Sunday morning at 8:30am and 10:00am as Attaboy shares in worship and message. more
Prayer on the 8s Prayer is vital to the life and purpose of the Church. Everything we do should be bathed in prayer. We are beginning a new prayer initiative that we're calling... more
Christmas Eve Praise Choir Since music is one of the great ways we can worship God, I would like to throw out an invitation to anyone that might be interested... more
Copyright © 2020 Old Fort Church, All rights reserved.