How do you read your Bible? Just ask Katie Erickson...Thursday, July 12 @6:30
July 10, 2018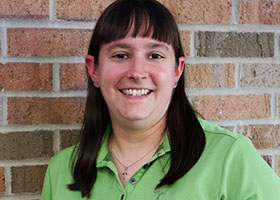 "How do I read my Bible?"

with Katie Erickson

Thursday, July 12th @ 6:30 p.m., OFC
This week, we'll focus in on putting some "tools" in our "toolbox" on how to use and apply Scripture in our everyday lives.

Join Katie Erickson,
a native of Dearborn, Michigan, who migrated to Ohio to earn her bachelor's degree in electrical engineering from Ohio Northern University in 2003 and has lived in northwest Ohio ever since. Katie was called to se
minary and began her studies at Winebrenner Theological Seminary in 2007, earning her Master of Divinity degree in August 2010 with a specialization in biblical languages of Greek and Hebrew. She has a passion for digging into the original languages of the Bible to interpret them more accurately, both for personal spiritual growth and to help others in their understanding of the Scriptures. She continues to work in the engineering field, currently as a design engineer for Ridge & Associates, Inc. in Findlay, Ohio. Aside from her engineering job, Katie teaches Biblical Hebrew and provides pulpit supply services to various churches whenever there is a need. Her interests include Biblical languages, her pets (cats and frogs), bicycling, computers, and anything to do with technology. Her favorite foods are spaghetti and chocolate (but not together!).
« Back to Blog
Copyright © 2018 Old Fort Church, All rights reserved.